Embodied Social Justice Summit 2021
Gennaio 27 @ 8:00

-

Gennaio 31 @ 17:00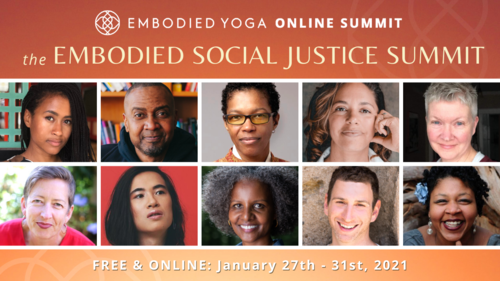 EMBODIED SOCIAL
JUSTICE SUMMIT
Exploring and Empowering a Sustainable Global Transformation
"Oppression spares no body. Injustices are both systemic and intimate, taking root in the flesh."
—MARY WATKINS
Summit Explorations
During this event we'll explore some of the most potent questions of our time:
How can we reimagine and embrace new forms of activism?

How do we take effective action in the world to respond to social justice issues?

How do we become the change we wish to see, and what does it look like from an embodied perspective?

How can we stay grounded and centered and increase our capacity for sustainable change?
Our current understanding of how trauma impacts the body has centralized the role of the body in alchemizing what has held us in cycles of reactivity and disconnection; unable to find each other in the reach towards healing our world.
We wish this summit to be an opportunity to absorb the wisdom of many incredible somatic and social justice change makers, and shine a light on the path forward on our collective journey.

"The political lives within our very tissues and movements."
– MARY WATKINS
Who is this
conference for?
All are welcome. Activists, Aspiring Activists,  Somatic Practitioners, Psychologists and Therapists, Mindfulness Practitioners, Parents, Teachers, Educators, Artists, and anyone interested in exploring the mind/body/soul connection through the lens of Embodied Social Justice.