I.C.O.N.S. – Conferenza sulla Neurofisiologia del Silenzio
26 Luglio 2019 @ 9:00

-

29 Luglio 2019 @ 18:00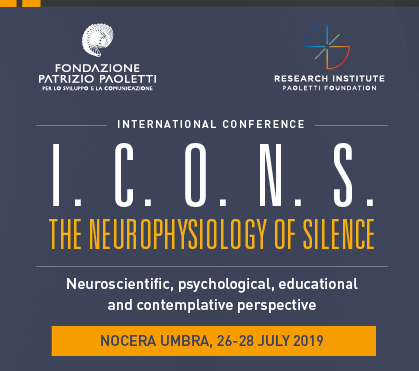 THE FIRST INTERNATIONAL CONFERENCE ON
THE NEUROPHYSIOLOGY OF SILENCE
The Research Institute for Neuroscience, Education and Didactics of Fondazione Patrizio Paoletti, in collaboration with Sapienza University of Rome and the University of Haifa, organizes the first edition of the international conference on Neurophysiology of Silence.
Neuroscientists, philosophers, psychologists and meditation experts explore the theme of silence with a multidisciplinary approach, both from a theoretical-scientific point of view and from a practical point of view. The goal is to deepen its effects on human well-being. It ranges from the neurophysiology of meditation to the importance of silence in music, to the application of mindfulness in a clinical, professional and personal context.
Guided practical experiences, meditation sessions, workshops and artistic performances will accompany the theoretical sessions.
www.fondazionepatriziopaoletti.org
PROGRAM
26TH JULY
9:00     Registration
9:30     Conference opening
THE STRUCTURE OF SILENCE – PART I
10:30    Patrizio Paoletti
Silence and the structure of the void:
The Sphere model of Consciousness
11:15    Moshe Bar
The two sides of the proactive brain
12:00    Meditation session
12:30    Lunch
THE STRUCTURE OF SILENCE – PART II
14:00    Joseph Glicksohn
Immersion, absorption, and spiritual
experience
14:30    Tal Dotan Ben-Soussan
Electrophysiological results from OVO
and QMT
15:00    Aviva Berkovich Ohana
Neurophenomenology of meditative
self-dissolution
15:30    Coffee break / Poster session
16:00    Srinivasan Narayanan
Consciousness without content or
minimal content
16:30    Marc Wittmann
Waiting, silence, meditation:
Experiencing empty time as
an embodied self
17:00    Meditation / Poster session
18:00    Aperitivo and Poster session
18:30    Concert
27TH JULY
9:00     Meditation session
ADDITIONAL CONSIDERATION ON THE FUTURE OF CONTEMPLATIVE NEUROSCIENCE
9:30      Francis Tiso
Taking the next step in research on the
Rainbow Body: Anthropological and
Neurophysiological Objectives
10:00    Giovanna Colombetti
What is absent from contemplative neuroscience?
10:30    Oded Maimon
             The mathematics of silence
11:00    Coffee break
SILENCE IN CLINICAL SETTINGS
11:30    Marina Risi
Psychoneuroendocrinoimmunology
of relaxation
12:00    Cynthia Price
Being within: The importance of
sustained attention in interoceptive
awareness training
12:30    Adam Hanley
Self-Transcendence: Measurement,
Manipulation through Mindfulness
Meditation, and Therapeutic Impact
13:00    Lunch
14:00    Meditation
14:30    Panel
15:30    Tea break
16:00    Tania Di Giuseppe
Inner scenery construction:
a participatory research
16:30    Workshop: The safe place exercise
28TH JULY
9:00     Meditation in movement:
The Quadrato Motor Training
THE SILENCE OF SENSES
9:30      Olga Capirci
The Signs of Silence: Deafness, language,
cognition and culture
10:00    Nicola Tambasco
The memory of smell: implications for social
and self-awareness
10:30    Tea Break
11:00    Filippo Carducci
Brain architecture and inner silence:
the case of Quadrato Motor Training
11:30    Sabrina Venditti
Molecular effects of Quadrato Motor Training
12:00    Panel discussion
13:00    Lunch
15:00    Patrizio Paoletti and round table
The Sphere model of consciousness
18:00    Closure and final regards