SE™ & The Refugee Experience: Supporting Nervous Systems Impacted By The Trauma Of Forced Migration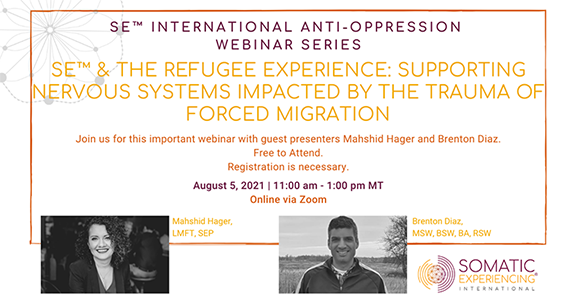 In the past decade, the global refugee population has more than doubled. There are currently an estimated 80 million people who are displaced from their home countries. 30-34 million of them are children below the age of 18. The forced migration of people across the world has created unique experiences of trauma for various people from different countries and cultures. In this webinar, we will clarify key concepts, introduce some of the unique presentations of trauma that these groups experience, and explore ways Somatic Experiencing is being used to address these experiences. This webinar will explore the inherent challenges of working with this population and offer therapeutic interventions proven effective. Special attention will be offered in terms of working across culture, cultural specific understandings of trauma (a.k.a. 'Idioms of Distress'), and how Somatic Experiencing can be conceptualized for these communities.
This webinar is appropriate for anyone who has begun their SE training (Beginning I or later), who is interested in or already working with refugees.
We strongly encourage a donation to support our BIPOC scholarship fund (Tier 1: 0$, Tier 2: $10, Tier 3: $25, Tier 4: $75, Tier 5: $100). However, no one will be turned away from this webinar for not making a financial contribution.
Learn more about the BIPOC scholarship fund here:
https://traumahealing.harnessapp.com/wv2/campaign/1443
Register at the following link:
https://traumahealing-org.zoom.us/meeting/register/tJ0qd–prjssEtValx7id7uDIL_YiLpIdoMx